Ani Van Eps
About The Artist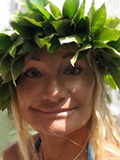 Ani enjoys painting in both oil and acrylic. Her work is available as giclees on canvas and regular prints.
Ani uses the breathtaking landscapes of Molokai as a backdrop for many of her scenic and fantasy style works. She feels a spiritual essence everywhere and hopes that it can be felt by those that veiw her art.
Born and raised in California, Ani is the loving mother of two beautiful daughters and has two grandchildren. She is grateful for her talent and for God's inspiration. Ani inspires others to develop their artistic gifts by teaching art at various venues on Molokai, and by providing an outlet for local artists to sell their works at Molokai Art From The Heart.
Anna Fuernsteiner
About The Artist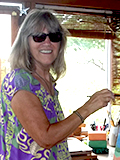 To live as an artist is to see the world as one composition after another. Anna is always looking for color harmony and also in capturing current scenes evocative of the past. She hopes her paintings allow the viewer a glimpse into the life of the Artist and that her art mirrors the spirit. Anna works with oil and acrylic on canvas.
Anna's bold color palate is luminous and full of vitality. The majority of her paintings have been completed on the island of Molokai, both on location and in her studio. Hawaiian culture comes alive on her canvases, expressing the people, customs, marine and tropical beauty.
Her experience and talent in fine art, as well as her familiarity with the ocean and her love of nature, give her paintings a unique perspective that reflects the beauty and power of our ever-changing world.
Steve Legare
About The Artist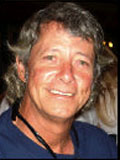 Steve Legare is retired from the Molokai Fire Dept after 30 years service. He now uses his time to explore his artistic side by photographing the spectacular Molokai sunsets and painting island scenes. Steve's works are inspired by the beauty of life on Molokai. The old buildings, the interesting customs, the work and play places, and the homes.
They are not simply places in time, it's the "feeling" They convey, the memories and visions they conjure. Steve says, " I can't paint the smell of fresh bread just out of the oven, the sound of the meat cleaver cutting, the slow crumbling of termite eaten walls, the squeals of joy of our keiki, or the spirit of connectedness in our small community, but in looking at my art, I hope you will be able to sense those things, as I do."
Ani's Jewelry
About The Jewelry
Jewelry is a definite offshoot of my art. The colors of paua shell are some of the same colors you will find in my paintings. Also, I love jewelry and I just keep coming up with more ideas of what to make!
I like coming up with unusual and different jewelry. I love shells and make many things out of them. Living on Molokai that is such a colorful and beautiful island, it seems like the natural thing to do is paint and make jewelry! I also love to paddle my outrigger canoe. That's what gave birth to the sterling silver paddle necklace.
My daughter Keri got her masters in fine art and her medium is metal – silver, gold and other metals as well. So when I get an idea like the paddle, I go to her to help me get it made! She has made many of my other sterling silver ideas. What is most amazing to me is that one piece gives birth to many more and that's what keeps me busy!!!
The Gallery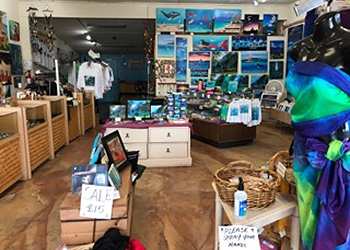 Molokai Art From The Heart is a collection of local artists and crafters on the island of Molokai. We are located at 64 Ala Malama (Main Street) in downtown Kaunakakai.
Our mission is to promote the arts on Molokai and thereby enhance the economy of our island.
The work of featured artists is shown on this site however, if you contact us, we would be happy to assist you with identifying a piece from any of the artists who have their work in the gallery.
The gallery features, oil, acrylic, and water color paintings both originals and giclee prints. Photographs and beautiful craft items handmade by local artisans include jewlery, local hardwood items, painted coconuts and gourds, garments and household linens in tropical prints, and even books by the artists. Be sure to inquire about t-shirts, coffee mugs, and other gift items that feature the work of our featured artists.
About Us
In 2006 seven Molokai fine artists decided to form a guild in an effort to market our work in a viable retail store on Molokai.
We created the store with seven of us and now we have about 100 Molokai-only artists and crafters. Our gallery is the only one of its kind on Molokai.
We operate like a co-op in that the company does not make a profit; all the work is on consignment; and we take turns working with no compensation other than the sale of our own work on consignment. This keeps the prices at a very reasonable level because only a small percentage is taken for rent, etc., when the artist sells a product.
The rule for our gallery is that one must be the original creator of the work and one must live on Molokai. On occasion we accept work from guest artists of other Hawaiian islands.